Main Content
The CEO System is Faltering Fast
This is Business Reformed!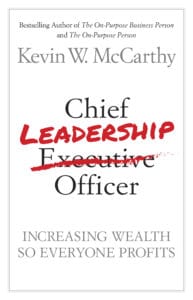 If your title is CEO; you have an HR department; and your people are your greatest asset; then your organization is mired in the depths of an Industrial Age mindset and methods established over a 100 years ago. Clinging to the past general management methods is inefficient, ineffective, and disengaging by every conceivable performance measure. There's nothing sweet about such c-suite lack of innovation. Every stakeholder is paying too high of a price!
Implementing the Chief Leadership Officer Approach, On-Purpose Partners positions your company, team, and you to lead profitably and confidently into the future.
Silos Store Grain, Not People
Industrial Age leadership thinking is behind us.
Emerging from the Digital Age is the Age of Purpose and Meaning. This new era opens abundant opportunity and advantages that are sparked by purpose, inspired by vision, delivered through missions,  guided by values, and brought profitably to life through story.
In the Company of Leaders
The CLO business reformation is here. Ready or not, here it comes!

Since 1983 On-Purpose Partners has consistently kept its clients ahead of the curve on vital leadership and business thinking and methods. We primarily serve mid-market business owners and C-Suite Executives.
The next big movement is the rise of the Chief Leadership Officers (CLO). The era of the authoritarian Chief Executive Officer is rapidly drawing to the end of its practical usefulness, CLOs will be emerging as the top ranking corporate officer.
We're preparing our most innovative clients today to become better leaders of themselves and their organizations for tomorrow. Each organization has a unique transitional CEO-to-CLO Leadership Arc to do business more completely right while gaining a sustainable advantage and corresponding ROI.